CALENDAR OF EVENTS
Be sure to use SignUp Genius to register for these events.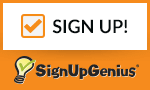 Check out our upcoming events for members and the public!
Date & Time & Description All are held on Zoom, unless otherwise noted. Zoom info will be sent with SignUp Genius confirmation.
CALENDAR
2021 – 2022
The LWV-PWFA has set meetings; use SignUp Genius to register for all of them:
• Board Meetings: 3rd Tuesday of the month
• General Membership Meetings: 3 per year plus an Annual Meeting
• Sips and Civility Meetings: Quarterly
• Book Discussion Meetings: January, April, July, October
All of the meetings listed below that are in BOLD need to be registered with SignUp Genius.
2021
September 6 Labor Day
September 11 Stonebridge Fest & Chili Cook-Off, Woodbridge
September 16 C-100 Candidate Debate
September 17 Early In-Person Voting begins
September 18-19 LWV-VA Justice Weekend Event, "Building a Just Commonwealth"
September 19 LWV-PWFA General Kick-Off Meeting, 2:00-4:00, Zoom Virtual Meeting with Prince William Public Libraries. Author Presentation with Barbara Batson and Mari Julienne, authors of Campaign for Women Suffrage in Virginia
September 21 LWV-PWFA Board of Directors 7:00-8:30, Zoom Virtual Meeting
September 28 National Voter Registration Day various libraries time & locations TBD
September 30 C-100 Candidate Debate
October 2 Manassas Fall Jubilee Manassas (All day event)
October 5 Book Discussion, Just Mercy at Jukebox Diner, 8637 Sudley Road, Manassas 11:30 – 1 p.m.
October 9 Latino Festival Manassas (All day event)
October 13 Mental Health Awareness, Ferlazzo Building (All day event)
October 14 C-100 Candidate Debate
October 16 Haymarket Day Haymarket (All day event)
October 19 LWV-PWFA Board of Directors 7:00-8:30, Zoom Virtual Meeting
November 2 Election Day
November 14th General meeting/commemoration Jessie Barringer/ program
November 16 LWV-PWFA Board of Directors 7:00-8:30, Zoom Virtual Meeting
November 28 Hanukkah (Begins)
December 1 LWV-VA Pre-Session
December 6 Hanukah (Ends)
December 25 Christmas Day
December TBD LWV-PWFA Board of Directors 7:00-8:30, Zoom Virtual Meeting
December TBD Sips and Civility
2022
January 1 New Year's Day
January 12 Virginia Legislative Session
January 13 Book Discussion The Hate You Give, 11:30 – 1 p.m. Brittany's Restaurant and Sports Bar, 12339 Dillingham Square, Woodbridge
January 16 Presentation and general meeting GA inauguration of Gover. Focus on general assembly
January 17 Martin Luther King Day
January 18 LWV-PWFA Board of Directors 7:00-8:30, Zoom Virtual Meeting
January 26 LWV-VA League Day
February Heart Awareness Month
February 21 President's Day
March National Women's History Month
March 8 International Women's Day
March 20 General Meeting and presentation
April 11 Book Discussion TBD
May 15 Annual Meeting and presentation
May 30 Memorial Day
Every Saturday, 10:00 – 10:45 AM
Black Lives Matter Vigil
Warrenton, in front of the courthouse
The vigil continues, and with the end of restrictions limiting participants, it is open to all. The League is committed to Diversity, Equity and Inclusion and also to full and open citizen participation through voter registration and education.

All meetings will be Zoom meetings, unless noted. So you can come as you are. Join us! Use SignUp Genius to register for our meetings.

(COMING SOON – COLOR CODED CALENDAR)
The League maintains one calendar in chronological order with three (3) categories. These categories are color coded so a member can easily see what type of event is scheduled. The Vice President is the Calendar Coordinator for the calendar's content.

• On the Horizon Calendar of Events – This calendar is dedicated to League meetings and events for the fiscal year.
• Voter Registration Calendar – This calendar is devoted to listing the voter
registration events, including date, time, place and Volunteer Director contact
information. SHOULD THIS INCLUDE VOTING DATES?
• Government Observer Corps Calendar. This calendar is devoted to listing all the
government upcoming meetings. It includes date, time, hyperlinks to the meetings and Observer Corps Chair contact information.