CALENDAR OF EVENTS
Be sure to use SignUp Genius to register for these events.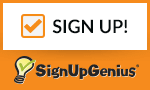 Check out our upcoming events for members and the public!
Date & Time & Description All are held on Zoom, unless otherwise noted. Zoom info will be sent with SignUp Genius confirmation.
April 12, 7 – 9 pm Book Discussion "Fix What You Can: Schizophrenia and a Lawmaker's Fight for Her Son." The author, Mindy Greiling, April 20, 7 – 9 pm will join us via Zoom.
April 18, 2 – 4 pm Membership Orientation! Learn how the League came to be, what we do, and how we go about deciding what to do. The membership orientation will be for all members, those of us who have been members for years, and those of us who have just joined. It's a civic lesson for us all!
April 20, 7 – 9 pm Board Meeting All members are welcome to attend.
May 4, 7 – 9 pm Sips and Civility
May 16, 2 – 4, Annual Meeting Vote for new officers, approve the budget and new bylaws, and look toward the future with Maria Burgos, the new Equity and Inclusion Officer for Prince William County. Ms. Burgos will share the vision, mission, and steps Prince William Government is undertaking to lead and provide services with an equity lens. There will be time for questions and comments at the end of her presentation.
May 18, 7 – 9 pm Board Meeting
May 22-23, 9 – 5, VA State League Convention
Every Saturday, 10:00 – 10:45 AM
Black Lives Matter Vigil
Warrenton, in front of the courthouse
The vigil continues, and with the end of restrictions limiting participants, it is open to all. The League is committed to Diversity, Equity and Inclusion and also to full and open citizen participation through voter registration and education.

All with the exception of the Warrenton vigils will be Zoom meetings, so you can come as you are. Join us! Use SignUp Genius to register for our meetings.