LWV-PWFA Participation Opportunities Checklist

The League Calendar provides a range of volunteer participation options to fit every Member Calendar. There are many opportunities for members to get involved in League activities and the political process. The League's Volunteer Director provides information on current projects and program tasks. You can also visit the SignUp Genius page that describes Volunteer roles and activities that are available, both outside and from home.
For more information, contact Judy Hingle.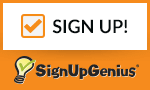 Participate in the Land Use Study
Watch Charlie Grymes explain what it's all about. Getting Dangerously Savvy About Land Use