Membership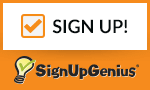 VOLUNTEER OPPORTUNITIES
Use SignUp Genius for all Opportunities
1.  Writing postcards.  We have an opportunity for a grant to pay for postage on voter registration postcards.  The voter registration targets young African-American and Hispanic communities in Prince William County.  We have already written 3000, so let's keep it going.
2.  Stuffing TRYs.  Our Prince William County They Represent You (TRY) brochures are ready to be distributed with an insert containing all of the voter information for the Nov. 3 General Election.  It includes the Constitutional Amendments and the candidates for all local offices.  We need to get these stuffed quickly also, so they can be given out at National Voter Registration Day, at the libraries.
TO JOIN OR RENEW YOUR MEMBERSHIP, CLICK MEMBERSHIP FORM.
While the website is under construction, PayPal will not be available. Please send the Treasurer a check, as noted on the form. Thank you!
LWV-PWA Bylaws Amended June 23, 2018